AC1120 Antenna Test Chamber
Modular anechoic chamber for radar, mmWave, and 5G NR
Radar and mmWave Test Chamber for Large DUTs
The AC1120 is a spacious chamber with 89 cm (~3 feet) internal distance between absorber tips in both height and width. In addition, the length is modular and expandable from 180 cm and upwards to increase far-field distance.
Best-in-Class Absorber Performance
We use best-in-class wide-range absorbers for all demanding mmWave and radar test applications. It is high-performing and rated excellently up to 110 GHz and beyond.
Accessories
The AC1120 mmWave test chambers have options of floor- and wall-mounts for horns and trihedral reflectors, wave arrestors, fittings for air circulation, moving targets for radar detection, outside shelves for your instruments, vertical chamber mounting, and much more.
We design and produce custom accessories as well, and can make special cutouts to fit your test equipment if required. Contact us and let us know what you are looking for.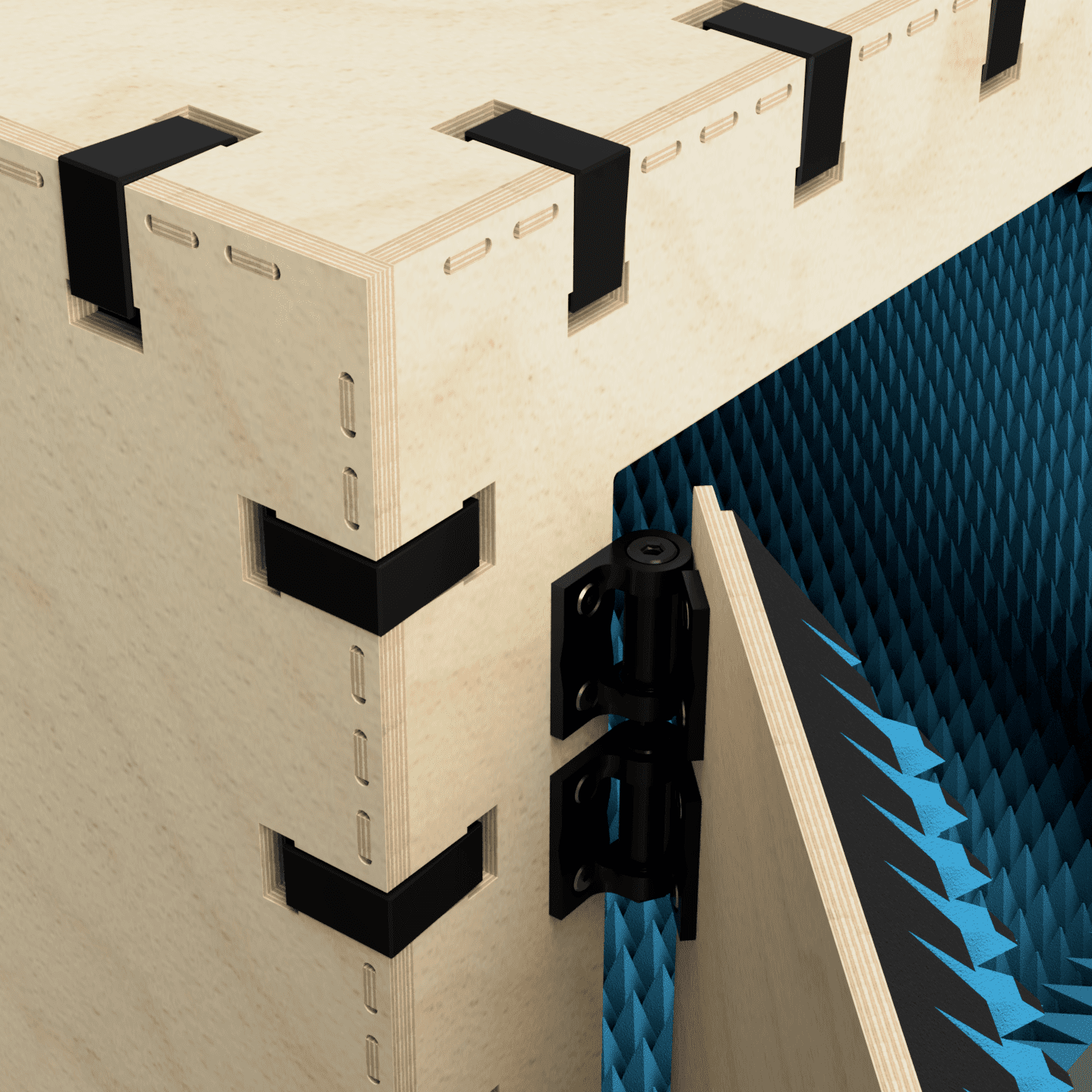 Well-designed, Robust Antenna Test Chamber
The mmWave test chamber is a modular design using individual panels, all tapped together with interlocking CNC'ed wooden joints and held in place by a clamp system. The design makes it fast to assemble and disassemble the AC1120, while it still being a stable and rigid construction.
Unpacking and assembling the AC1120 antenna test chamber can be completed in less than an hour.
The chamber is a solid design with CNC-machined precision and made from furniture-grade Baltic birch plywood. All hinges and locks are custom designed for the chamber with ball bearing inserts for reliable performance year after year. 
Ready for Manufacturing Environments
The AC1120 can be fitted with front- and side-loading systems for production test efficiency. These add-ons are designed to ease testing in volume production, and are produced in aluminum with linear rails. This secures reliable performance year after year without wearing down.
Some Electronics Manufaturing Services (EMS) providers require their customers to ESD-protect chambers for the EMS production facilities. You no longer need an expensive steel chamber to meet this requirement.  We can deliver the AC1120 antenna test chamber with an ESD-protective coating and ESD ground connections.
Contact us for more info on our production solutions: [email protected]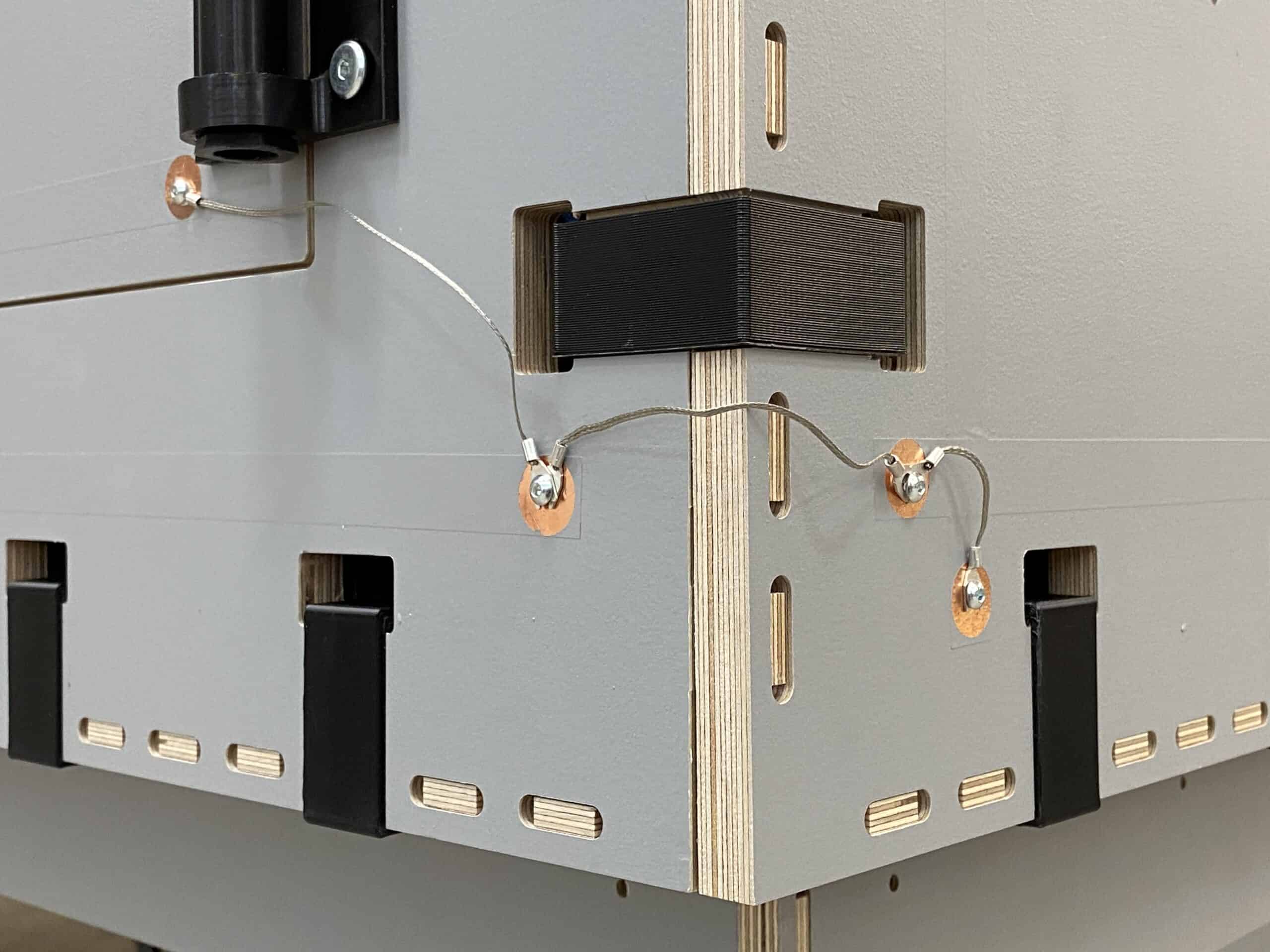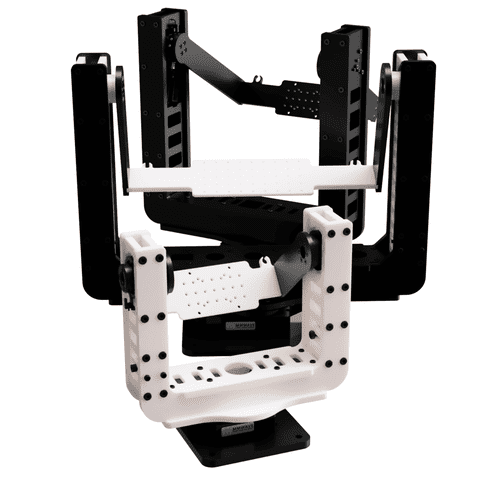 Complete antenna measurement system
Together with the DUO antenna positioners the AC1120 test chamber form attractive full-size solutions for any radar and mmWave antenna test and measurement.
The DUO positioners hold a DUT spanning up to 50 cm width and allow for measuring large directional, beam-shaping antennas or large DUTs like side mirrors with 77 – 81 GHz radar units.
Our designs use best-in-class components to guarantee accuracy and reliability under all test conditions and loads. They offer the best possible precision in their class.
A flexible, modular construction
The basic AC1120 anechoic chamber is constructed from two symmetric modules mounted on a high or low stand.
There are two sizes of basic chambers. The AC1120-180 is ~180 cm (6 feet) long and made of two 115 x 115 x 91 cm modules. The AC1120-240 is made with two 115 x 115 x 121 cm modules, forming a ~240 cm (8 feet) long chamber.
By adding length extension modules, both chambers are expandable in 120 cm (4 feet) increments.
All our anechoic chambers and modules are joined with long latches with a jigsaw-puzzle pattern to form a strong, yet elegant, joint between them. Furthermore, since the module are symmetric, the doors can be mounted on opposite sides. Or, the chamber halves can even be rotated 90-degrees if a door is needed on top of the chamber. Each chamber half is moveable by hand, so reconfiguration does not require full disassembly of the chamber.

Configuration examples
 
Description
Exterior dimensions
Internal dimensions tip-to-tip
Door modules
Extension modules
Far-field distance*

AC1120-180

2 modules

180 cm long

W 115 cm

H 115 cm

L 183 cm

W 89 cm

H 89 cm

L 157 cm

2 units
–
135 cm

AC1120-240

2 modules

240 cm long

W 115 cm

H 115 cm

L 243 cm

W 89 cm

H 89 cm

L 217 cm

2 units
–
195 cm

AC1120-360

3 modules

360 cm long

W 115 cm

H 115 cm

L 363 cm

W 89 cm

H 89 cm

L 337 cm

2 units
1 unit
315 cm

AC1120-480

4 modules

480 cm long

W 115 cm

H 115 cm

L 483 cm

W 89 cm

H 89 cm

L 457 cm

2 units
2 units
435 cm

AC1120-EXT120

Extension module

120 cm long

W 115 cm

H 115 cm

L 120 cm

W 89 cm

H 89 cm

L 120 cm

+120 cm

AC1120-High Stand

W 97 cm

H 65 cm

L 165 cm

AC1120-Low Stand

W 97 cm

H 37 cm

L 165 cm
*Depending on positioner DUT arm depth.
Contact us for more information about test solutions: [email protected]
Absorber performance
Reflection loss at vertical incidence (-dB @ GHz)
| | | | | | | | | | | | |
| --- | --- | --- | --- | --- | --- | --- | --- | --- | --- | --- | --- |
| | 2 | 3 | 6 | 10 | 18 | 24 | 39 | 60 | 77 | 100 | 110 |
| 115 mm | 25 | 28 | 36 | 41 | 50 | 50 | 50 | 50 | 50 | 50 | 50 |
Need a high-accuracy positioner for large or heavy DUT's?
The DUO positioners fit perfectly in the AC1120 chamber.
Read more here.